Doberman is a royal appearance dog with a muscular build followed by a smooth and glossy skin texture. Originated from Germany, these dogs were primarily used for guarding purposes.
They are a mixture of several dog breeds, including Black and Tan Terrier, Rottweiler, and German Pinscher. However, their ancestorial history is still unknown to this date.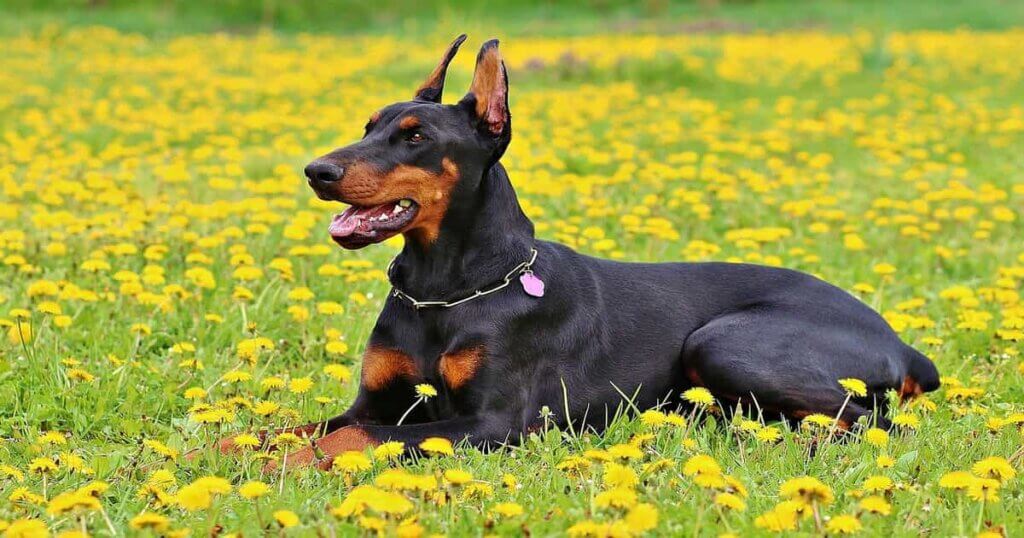 Unlike the English bulldogs, the Doberman's physique matches their activity levels i.e., a highly active dog breed that is always fit for defense work purposes. Do not worry! They have also proved themselves to be a loving companion and family dogs.
Nevertheless, novice pet owners are advised not to start with this breed, as improper maintenance would be detrimental for the dog and the pet owner.
Unfortunately, we have found that Dobermans are high-maintenance dogs. Their high activity levels demand daily exercise at least twice a day.
Exercising is like a lifestyle for these dogs, without which they will rapidly gain weight and might develop non-communicable life-threatening diseases such as heart problems and weak joints.
Besides, they are required to be busy almost all day. They have an alpha instinct, so they look for a leader in you. If you lack the discipline necessary, your dog will take charge and do whatever it wants, including not listening to you.
The Dobermans require a high nutrition diet because of their high activity levels, and the food must be appetizing and digestible. In order to maintain the muscular body structure, the Doberman diet must consist of protein-rich ingredients such as beef, chicken, or lamb along with sweet potatoes and brown rice that serve carbohydrates, which are the primary fuel for daily activity.
Additionally, Dobermans require fatty acids, which can be found in safflower oils and flaxseed, which would help maintain their high-quality skin textures.
Watch out for volvulus and gastric dilation, also known as bloat. Bloating is a severe digestive
problem common among dog breeds like Dobermans. It is a frequently occurring phenomenon where the stomach gets rotated by the foods and gases, thus blocking the passage for the gases to move out and cutting the stomach's blood supply.
This requires immediate medical support; otherwise, the internal bleeding will reach the heart and kill your dog. Hence, it is of utmost importance that the food intake is divided into two or three parts, according to veterinary research. Also, the chances of bloating can be reduced by including wet food in your dog's food.
Besides, Dobermans must be kept hydrated at all times, and their stress levels must be kept low. In addition to all these, exercise must be avoided one hour before and after a meal, according to PetCareRx.
Another common disease among Dobermans is the spinal condition called wobblers syndrome. This makes the dog's movement uncoordinated, makes the dog clumsy, and eventually leads to paralysis.
Young Dobermans do not show any symptoms as it usually occurs in the latter part of their life, usually around 4 to 5 years. However, specific dietary changes can help to prevent such disasters. Dobermans must not be fed puppy food after their age crosses 6 months, and this would significantly reduce the chance of developing this syndrome.
According to the Vetinfo website, the young Dobermans' protein content must be restricted to 24 percent, and vitamin and mineral supplements, especially calcium and phosphorus, must be avoided.
Dobermans are also susceptible to another hereditary disorder called canine juvenile renal disease that deteriorates the kidneys and brings about early death. The symptoms usually start around 2 years, including increased thirst, weight loss, vomiting, and lethargy.
However, a diet containing low protein and phosphorus lessens the pressure on the kidneys to filter out these substances and thus significantly slows down the deterioration progress and relieves the dog of its symptoms.
Hence, taking care of a Doberman is a pretty challenging task. Their inherited diseases and specific characteristics make choosing the right dog food even harder.
However, we are here to make your life easy as our list of top 8 food products for your Dobermans will ease your tension. It is noteworthy that no product is being demeaned because of its position in our list. The dog foods are usually available in your nearby store or on the Amazon website. So, without any further delay, let us get to it.
Table Of contents
Blue Buffalo Wilderness Duck Recipe Grain-Free Dog Food For Doberman
The #1 position of our list goes to Blue Buffalo's Wilderness Duck Recipe Grain-Free Dog Food. This product is currently the best dog food for Dobermans, especially adults.
The formula is composed of Omega-3 and 6 fatty acids that ensure a smooth digestive system and help maintain the soothing skin texture of your Doberman. With its delicious flavors, you can stop worrying about your dog's appetite as it will surely make it your dog's favorite dog food.
The primary source of protein comes from turkey meals, chicken meals, and deboned duck. It also contains various top-notch carbohydrates such as peas and sweet potatoes and essential fat sources that act as the primary fuel for your active Doberman.
Additionally, the recipe consists of carrots, blueberries, and cranberries, which significantly enhances the antioxidant level in the dog.
Besides, the glucosamine in the dog food enhances your dog's joint and skeletal system as Dobermans' high activity levels are pretty taxing on their bodies. This product comes in different shapes and sizes, starting from a 4.5-lb bag of $21.98 to a 24-lb bag of $67.98
Holistic Select Large & Giant Breed Puppy Dog Food For Doberman
Holistic Select Large and Giant Breed Puppy Dog Food take the #2 position on our list. As the name says, this recipe specializes in the needs of your puppy Dobermans. However, you can use this product for your adult dog as well.
The product contains essential ingredients, including lamb meal, oatmeal, chicken meal, barley, and brown rice. Thus, your Doberman will be getting the necessary protein for its high activity and to maintain its muscle mass, along with the carbohydrates that would provide energy. The antioxidants in it help to keep the skin texture smooth while reducing your dog's stress level.
Additionally, the product consists of special digestive enzymes and high-quality fibers from fruits and vegetables that improve your Doberman's digestive system and keeps their sensitive stomach in check. Besides these, the 100% natural ingredients contain DHA that enhances your Doberman's eye coordination and cognitive intelligence.
As much as it serves all kinds of dogs, it only specializes in puppy dogs; so the limited range of functionality is its main drawback. If you still like to give it a shot, the price range starts from a 15-lb bag of $39.99 to a 30-lb bag of $ 77.99.
Purina Pro Plan Sensitive Skin & Stomach 7+ Salmon & Rice Dog Food For Doberman
Another specialized dog food takes the #3 position on our list. Purina's Pro Plan Sensitive Skin and Stomach is dedicated to adult and senior Dobermans.
The senior Dobermans require certain essential nutrients; in this case, hardly any other product can compete with Purina's recipe. The primary ingredients include salmon with low protein content and oatmeal that almost all Dobermans can digest easily.
Thus, this recipe is the perfect product for adult and senior Dobermans suffering from sensitive stomachs. Perhaps the most unusual ingredients of this formula are the high glucosamine and EPA content.
The glucosamine supplements the bones and joints of the dog, while the EPA ensures that the Doberman does not develop Wobbler's syndrome. The fruits and vegetables in this product contain high-quality prebiotic and probiotic fibers that boost the dog's digestion and help with the sensitive stomach.
Additionally, it contains Omega-3 and 6 fatty acids that help with the maintenance of your dog's skin texture.
However, similar to the previous product, this product only specializes in only one stage of the Doberman. Unlike the previous product, it cannot be used for puppy Dobermans; thus, its functionality is further narrowed down to only its specified type. The price of this recipe starts from a 4-lb bag of $ 18.98 to a 24-lb bag of $ 65.98.
Purina Beyond Wild Prey-Inspired Turkey, Liver & Duck Recipe Canned Dog Food For Doberman
The #4 position on our list goes to Purina Beyond Wild Prey inspired Turkey, Liver, and Duck Recipe Canned Dog Food. This recipe offers the best wet food that your Doberman can get. It is popular because wet foods are usually a friend of Dobermans' digestive systems.
The main ingredients of this product include turkey, chicken, broth, duck, and liver. This delicious meal will surely make your dog want more of it, thus improving its appetite for future meal intakes. Its magnificent texture, followed by high-quality natural ingredients, will meet all of your Doberman's expectations.
The probiotics ensure a smooth skin texture while the antioxidants keep the digestive system in check. This meal is a mixture of various meat sources; thus, protein is the sole source of your dog's energy and muscle mass.
Perhaps the best thing about this product is its all-natural ingredients which ensure that preservatives, colors, and artificial flavors are excluded from the product.
The only drawback is that some dogs may not want wet foods. Hence, if your dog dislikes it, chances are that the dog will not take a single bite from it, even with emphasized insisting. Thus, it is a risky choice, yet if you want to take a shot: the price ranges from a 5-lb bag of $ 14.98 to a 34-lb bag of $ 68.98.
The Farmer's Dog — Best Fresh Food For Doberman For Doberman
The Farmer's Dog recipe takes the #5 position on our list. This product is the best dry dog food for your Doberman as it is certified by researchers and expert veterinarians across the globe.
Mistakes are inevitable when looking for suitable dry dog foods for your Doberman. With Farmer's Dog in the market, you can relieve yourself from all the unnecessary worrying! The customized formula of this product includes all the high-quality premium essentials for your dog.
The primary ingredients include turkey, carrots, chickpeas, spinach, and broccoli. Thus, the less composition of animal protein significantly reduces the chances of your dog developing allergies. The turkey provides a low protein content, while the carrots and chickpeas provide the carbohydrates and necessary probiotics and antioxidants. Besides, its exquisite taste makes it popular even among the choosiest dogs.
Unfortunately, the product is out of stock and will soon be available with all the necessary pricing and package.
Castor & Pollux Organix Grain-Free Dog Food For Doberman
Castor and Pollux's product takes the #6 position on our list with its delicious tasty recipe. The product ensures all kinds of premium products necessary for your Doberman.
If you are willing to go the extra mile to ensure better health for your Doberman in the long run, this recipe is precisely for you! The primary protein source is the free-range chicken, which provides the lean muscle mass needed for your dog's physique.
Other ingredients include organic sweet potatoes and chickpeas, that act as the carbohydrate source, providing the fuel needed for your Doberman to function properly.
Additionally, the flaxseed and coconut oil contain Omega-3 and Omega-6 fatty acids that provide a soothing skin texture for your Doberman. The fact that such an organic product comes in a very delicious flavor makes it even more popular among the Doberman owners.
Our investigation shows that this product dominates the organic dog food market for its excellent understanding of Doberman's nutrition requirements. The product is made so that at least 95% of it is organic content.
The only drawback is that the product is expensive and may not suit you if you are on a tight budget. However, if you still want to give it a try, then you can get it from a wide range of packages and prices, starting from a 4-lb bag of $21.88 to an 18-lb bag of $78.28.
Taste of the Wild Pacific Stream Grain-Free Dog Food For Doberman
The #7 position in our list goes to Taste of the Wild Pacific Stream Grain-Free Dog Food. This
product is best known for its economical prices and thus provides a nutrition-filled package within an affordable range.
This brand is prevalent if you have been keeping dog pets for a long time. Hence, its introduction is nothing but a mere waste of time. We have found that this recipe provides a 100% nutrition-filled balanced diet, especially for your Doberman of any life stage.
The recipe is grain-free and composed of salmon, sweet potatoes, ocean fish meal, and peas. Such high-quality ingredients ensure that your dog has a properly functioning digestive system and prevents any sensitive stomach issues.
However, the benefits do not only end there! You will be surprised to know that the actual fruits and vegetables in it provide natural antioxidants and probiotics that stimulate proper skin texture and overall excellent health.
It has no significant drawbacks. Minor ones include the preference of certain Dobermans who might not like the product from the beginning. We suggest you be cautious when buying this product for your dog. The recipe comes in a wide variety of prices and packages, starting from a 5-lb bag of $17.99 to a 28-lb bag of $54.99.
Bully Max High Performance Super Premium Dog Food For Doberman
Lastly, the #8 position goes to Bully Max's High-Performance Super Premium Dog Food. Do not get intimated by the name, for its focus is to make your dog bulkier; this dog food for your Doberman is suitable if gaining weight is your primary goal.
One of the most common issues among high-activity dogs is that their high metabolism tends to burn off calories faster, which also burns out the lean mass, and the last thing you want is a skinny, unhealthy Doberman.
Lucky for you, this recipe provides a high-calorie meal that allows your dog to be active while maintaining the same level of muscle mass. The main ingredients include chicken meal, brown rice, ground grain sorghum, dried plain beet pulp, and chicken fat. Its fundamental composition includes a 30:20 protein-to-fat ratio that accounts for the high activity of your dog while ensuring that it has the necessary energy level to carry out its daily activities.
The general rule of mass gain is that the diet must contain a calorie surplus. Bully Max's product does exactly that by providing around 500 calories per serving, which is more than enough to make your dog bulkier. This AAFCO-approved dog food is processed without soy, wheat, or other additives that might trigger allergies and digestive problems.
It has the potential downside of lacking proper micronutrients such as fibers, antioxidants, and probiotics from vegetables. Hence, dogs may gain weight but lose out on better skin texture and cognitive and eye coordination development. The price ranges from a 5-lb bag of $29.99 to a 40-lb bag of $139.99
Is the Best Dog Food for Basset Hounds also suitable for Dobermans?
The best dog food for basset hounds may not necessarily be suitable for Dobermans. Each breed has different nutritional needs. While basset hounds benefit from a diet low in calories and fat, Dobermans require high-quality protein for their muscle development. Hence, it is essential to choose dog food that caters specifically to the unique requirements of each breed.
Conclusion
The products listed above will help you to make the best choice. However, it is noteworthy that no product is, by any means, demeaned because of its position in the list.
Ultimately, it comes to you and your preferences of feeds. Budget is one of the most concerning factors you may have, limiting your choices to some extent.
Other factors include your dogs' preferences and needs. Every dog's appetite is different, so one product may not suit every Doberman. The choice must come by considering the different factors related your dog.