Labrador Retrievers are big, friendly sweethearts. Modern labradors are a mix of English gundogs and Canadian native St. John's water dogs.
Once revered by nobles, hunters, and anglers for their obedience, work ethic, and trainability, these dogs have become guide dogs and essentials in American and British households.
Originally bred as working dogs, this breed is medium-to-large built-in size, with males standing at 55 to 62 centimeters tall and females at 55 to 60 centimeters tall. Male Labradors weigh from 25 to 36 kg, while females range from 25 to 32 kg. On average, the lifespan of a Labrador Retriever is from 10-12 years.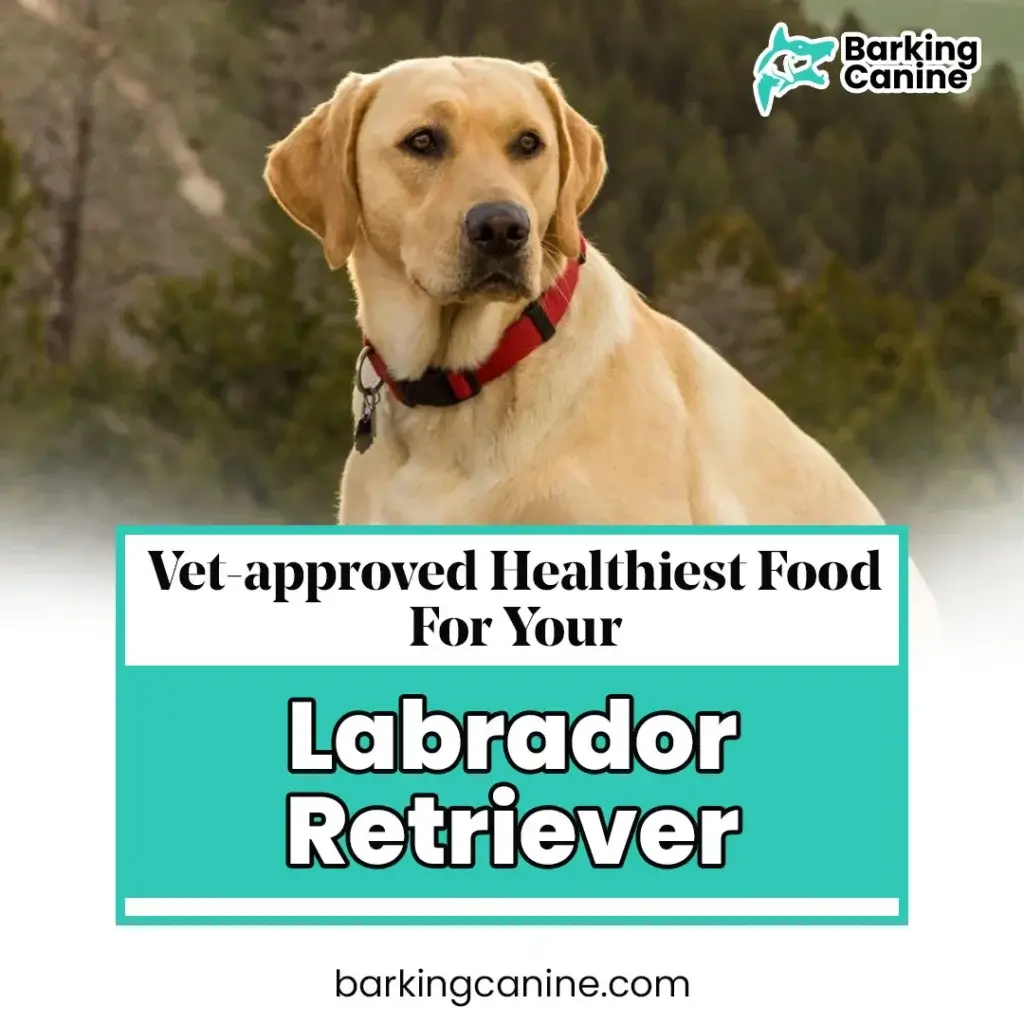 Every dog has different dietary requirements based on its level of activity, energy, and body build. Retriever puppies and dogs are very active and energetic and are a rapidly-growing breed.
This means that they can grow significantly in short periods and require a diet with adequate protein, vitamins, minerals, and other nutrients. Puppies will benefit from puppy food specially formulated to suit their needs.
For adult dogs, Purina recommends that Labradors weighing between 25 to 36 kg be fed a minimum of 2-⅔ to 4-¼ cups of high-protein dry dog food daily.
Following a consistent feeding schedule is beneficial for dogs and owners, as it keeps the digestive predictable and regular. You should always consult a veterinarian to help plan a feeding schedule tailored adequately to your dog based on variables such as their age, weight, and activity level.
But it is critical to avoid feeding dogs before and after exercise or prolonged periods of activity, as it can lead to a life-threatening complication known as bloat, and larger dogs such as retrievers are highly prone to this phenomenon.
Additionally, while treating your dog to human food is fine, some foods should never be fed to dogs. Some common foods that are harmful to dogs include; Chocolate, macadamia nuts, onions, raw meat, and eggs, and foods containing Xylitol.
Chocolate and chocolate products contain a compound known as theobromine, which is toxic for dogs and can cause vomiting and diarrhea.
Dark and baking chocolate has a very high percentage of theobromine and may be fatal for the pup. Macadamia nuts are delicious and commonly found in chocolates, cookies, and candies.
However, dogs suffer from hypothermia, weakness, and vomiting as a result of eating macadamia nuts. Xylitol and products containing it may result in liver failure in dogs.
Raw food such as meat and uncooked eggs are strictly prohibited for dogs, as the meat may contain harmful bacteria such as salmonella and E.coli, which can also affect dogs.
Finally, dogs are discouraged from being fed onions, which can cause gastrointestinal irritation.
Table of Contents
Many different types of dog foods are available, but which ones are the best for your beloved Labrador? Luckily, we've compiled 9 of the highest-rated and best-selling dog foods available for medium and large-sized dogs on amazon.com for you and your furry friend.
Blue Buffalo Life Protection Formula Natural Adult Dry Dog Food for Labrador Retrievers
The first product on our list is also the best-selling dry dog food on Amazon.com. With an average rating of 4.7/5 from mind-boggling 30,685 user ratings across the globe, we can assume that this product would be a great choice for labradors.
"Blue Buffalo Life Protection Formula Natural Adult Dry Dog Food" comes in a large variety of sizes and flavors. Sizes vary from 5 lbs to 34 lbs in weight, and there are six flavors; beef & brown rice, chicken & brown rice, lamb & brown rice, fish & brown rice, and small bite chicken & brown rice.
Depending on the variety you buy, the dog food will contain high-quality, organically sourced deboned beef, chicken, lamb, or whitefish.
Along with a healthy and balanced blend of wholesome brown rice, barley, and oatmeal grains, nutritious vegetables such as carrots, whole peas, and sweet potatoes alongside antioxidant-rich blueberries, cranberries, and other fruits.
In addition to added vitamins and minerals. Blue Buffalo dog food promotes vitality by aiding in muscle growth and generation, sustaining a healthy immune system through its exclusive "LifeSource Bits", and promoting healthy skin and coat growth with omega 3 and 6 fatty acids.
This dog food is an ideal choice due to its 24% protein and 14% fat composition, natural contents, exclusive "LifeSource Bits," and wide selection of delicious and nutritious flavors that will help your Retriever sustain its health and wellness in the long run. This product is priced between $16.98 and $136.50, depending on your purchase size and flavor.
Purina Pro Plan Sensitive Skin & Stomach for Labrador Retrievers
The second product on our list comes from a very well-known manufacturer of pet products; Purina, a Nestle brand. With an average of 4.7/5 stars from over 18,000 reviews, this is another excellent choice of pet food for Labrador Retrievers.
"Purina Pro Plan Sensitive Skin & Stomach" is high protein dog food meant for adult dogs. Available in both wet and dry form, this comes in 4 different sizes, from 5 lbs to 41 lbs, in a single flavor; Salmon & Rice. This food is unique because it's specially made for large dogs suffering from sensitive skin and stomach conditions.
These dogs have a hard time digesting everyday dog foods, suffer from nausea and diarrhea, and are less active. Luckily, this high-protein Purina product is made with real salmon, sunflower oil, easily digestible oatmeal, and rice and is fortified with omega-6 and omega-8 fatty acids and natural prebiotic fiber nourish sensitive skin.
This product is made without artificial flavors, colors, and corn, soy, wheat, or poultry by-product meal, making it easy-going on your dog's digestive tract.
With 26% crude protein and 16% fat content, this is an excellent choice for active Labrador Retrievers with sensitive skin and stomachs. Purina has priced this food between $15.48 to $128.65, depending on the size of the pack you purchase.
IAMS Minichunks Adult Dry Dog Food, Chicken for Labrador Retrievers
Coming in third on the list, this product has an average rating of 4.8/5 stars from a whopping 16,372 user ratings. Aside from the stellar ratings, this product is also climate pledge friendly, meaning that it has been certified by Amazon as a product that helps to preserve our earth's environment.
The compact packaging used by Iams is designed to reduce packaging used for a product and make them easier to ship while drastically reducing the carbon footprint produced by shipment and logistics on the environment.
"IAMS Minichunks Adult Dry Dog Food, Chicken" is a dry variety of pellet dog food, available in 7,15, and 30lbs sizes. The contents of this dog food are 100% organic,
complete, and wholesome, with no filler and only the best quality ingredients. It contains high-quality, organic, farm-raised chicken kibble, ground whole grain corn, and sorghum, flaxseed, dried egg product, chicken fat, plain beet pulp, and chicken by-product meal along with numerous vitamins and minerals and their extracts.
Iams uses a tailored blend of unique ingredients which provide your dogs with many visible benefits such as; a healthy coat and skin, robust immune system, healthy digestion, strong muscles, and healthy teeth.
Iams have designed their mini chunks in a way that scrubs your canine's teeth while they feel, keeping them clean. The tailored blend of prebiotics, natural fibers, and antioxidants consistently make Iams an ideal choice for larger dogs like Labrador Retrievers.
Depending on the bag weight you buy, this dog food will cost you only $10.66 – $80.29, making it one of the highest value-for-money products on the list.
Wag Dry Dog Food with Grains for Labrador Retrievers
Fourth on our list is none other than an Amazon brand. Wag Dry Food With Grains stands at 4.4/5 stars from over 5,132 individual customer ratings. This product is a private-label brand owned and distributed exclusively by Amazon.
It comes with a satisfaction guarantee that vows a refund within a year if you aren't fully satisfied with your purchase. A focal point of this product is that it is sustainably manufactured.
"Wag Dry Dog Food with Grains" is a dry food variety in 3 packet sizes from 5 lbs to 30 lbs. There are three flavors available; beef, chicken, and salmon. Each protein is ethically and sustainably sourced from free-range American farmers.
The highest quality whole grains such as brown rice grained sorghum and cracked pearled barley are used alongside probiotics, minerals, nutrients," and fibers. Wag products don't contain added soy, corn, wheat, or chicken-byproduct-meal, which can be harsh on your labrador's digestive tract.
Ultimately, "Wag Dry Dog Food with Grains" is good for large and active dogs, with 24% protein and 14% fat content. This food should be enough for your Labrador. Priced between $11.99 and $39.99, this can be a more reasonably priced alternative to "Blue Buffalo Life Protection," providing similar quality nutrition at a much lower price.
NUTRO ULTRA Adult Dry Dog Food for Labrador Retrievers
The fifth entry on our list, "NUTRO ULTRA Adult Dry Dog Food," is another popular dog food amongst Amazon shoppers. This food has a weighted rating of 4.7/5 stars from 1,423 global ratings, and is available in 15 lb and 30 lb sizes, and comes in a single flavor: Chicken, Lamb & Salmon.
What makes "NUTRO ULTRA Adult Dry Dog Food" a unique contender on our list is that it contains a trio of proteins from real chicken, lamb, and salmon as opposed to having only one. Furthermore, it includes a Nutro exclusive "superfood medley"; an expert-crafted mix of brown rice, whole oats, salmon and egg proteins, flaxseeds, sunflower oils, and organic tomatoes, in addition to apples, blueberries, carrots, coconuts, chia seeds, pumpkins, kale, and spinach. This healthy and lip-smacking formula ensures that your Retriever thrives with a shiny coat and skin, strong teeth and bones, good digestion, and a lean body with strong muscles.
What makes this kibble unique is its holistically formulated blend of exotic fruit, vegetables, proteins, and nutrients that help your Labrador retriever get the optimum supplements they require to stay healthy. Nutro has priced its dog food from $59.99 to $82.45.
Taste of the Wild Dry Dog Food for Labrador Retrievers
The sixth entry on our list is "Taste of the Wild Dry Dog Food," a stark contrast to the refined nature of the previous entry; the brand embraces naturalism, rusticism, and the wilderness. This is another big hit with shoppers, as it averages at 4.7/5 stars from a massive 15,126 individual ratings. A family-owned company, Taste of the wild pride itself on manufacturing its products in the United States, with ingredients from trusted local and global suppliers.
"Taste of the Wild Dry Dog Food" comes in 3 packets, from 5 lbs to 48 lbs, and in two different flavors; High Prairie and Ancient Prairie. High Prairie is grain-free dog food and primarily contains roasted bison and venison and beef and lamb proteins. Fruits such as blueberries, raspberries, sweet potatoes, and chicory root, among other antioxidants and probiotic microorganisms, such as an exclusive K9 Strain proprietary probiotic, make it an excellent choice to promote your pup's immune and physical health and wellness.
Ancient Prairie has the same high-quality ingredients as "High Prairie" but has grains such as sorghum, chia, quinoa," and millet included.
Both flavors have sufficient nutrition and supplements to promote healthy growth in dogs. Furthermore, this food has the highest energy content out of all brands listed here, with a whopping 32% protein and 18% fat content. Making this kibble perfect for highly active Retrievers.
"Taste of the Wild Dry Dog Food" is definitely a standout amongst our picks due to its unique superfood ingredients, very high energy content, and exclusive K9 Strain proprietary probiotics, which make it a great choice for ensuring that your dog stays all-around healthy and happy.
An important point to note about feeding dogs is that veterinarians and experts suggest a 10-day feeding plan that gradually transitions your dog into new dog food brands.
For the first 1-3 days, feed your dog 25% of the new brand and 75% of the old brand. In the following 4-6 days, make the old and new brand ratio equal or two portions of 50%. On days 7-9, feed your dog 75% of the new brand and 25% of the old brand in their servings. By day 10, your Labrador will have acclimatized to the new brand and can eat servings containing only the new brand of dog food. Taste of the wild has priced this product between $15.99 to $127.05.
Pedigree Adult Dry Dog Food for Labrador Retrievers
The seventh place on our list goes to "Pedigree Adult Dry Dog Food."omega-six This product has an average rating of 4.7/5 stars from 19,101 ratings. Available in 3 bag sizes from 20.4 lbs to 33 lbs, in Steak & Vegetable flavor.
Suitable for all dog breeds, "Pedigree Adult Dry Dog Food" is manufactured in the US and made with dried steak, vegetables, whole grains, minerals, and supplements that dogs love. The omega-six contained by this food helps keep your dog's coat and skin in top shape, while the high energy content is perfect for dogs like Retrievers.
This food is balanced and complete for dogs of all life stages, and is also made without high fructose corn syrup, artificial flavors, and contains zero added sugar. Pedigree has priced this from $16.90 to $51.80, making it yet another one of the highest value-for-money products on our list.
Purina ONE SmartBlend for Labrador Retrievers
Yet another entry by Purina at eighth place, "Purina ONE SmartBlend," is another favored dog food by Nestle. This is another hit with dog parents with a rating of 4.8/5 stars from 16,932 user ratings. Without a doubt, we can say that Nestle's brand image and reliability have played a part in making its products so popular.
Purina ONE SmartBlend is dry dog food for adults that comes in 5 sizes from 4 lbs to 40 lbs, in a chicken and rice flavor. Recommended for all breed sizes, the main ingredients in this product.
are; protein-rich chicken morsels, crunchy kibble pieces, as well as grains such as rice flour and corn gluten meals, a dual defense antioxidant blend helping to sustain a healthy and robust immune system, and minerals, vitamins and supplements such as glucosamine to promote healthy joint and bone growth.
This food has zero filler and is super nutritious for all dogs. However, unlike Purina Pro, this food is not specially formulated for sensitive skin and stomach pups. Priced between $17.33 and $104.58, this is a great choice for all dogs.
Rachael Ray Nutrish Dry Dog Food for Labrador Retrievers
The final entry on our list is a dog food brand by TV personality Rachael Ray and her brand "Rachael Ray Nutrish." With an average rating of 4.7/5 stars from 16,098 global customer reviews, this is yet another popular choice for Labradors and other dogs.
This food is specially formulated for breeds of all sizes; this food is available in 4 sizes, from 6lbs to 40 lbs. This brand features dog foods inspired by Rachael Ray's kitchen and her philosophy to make recipes delicious and fun.
Natural and organic chicken meat, peas, and brown rice are used, as well as added vitamins and minerals to ensure your dog's nutrition needs are met. Filler, poultry by-products, and wheat aren't used in this meal, thus making it safe for sensitive dogs to eat.
"Rachael Ray Nutrish Dry Dog Food" isn't anything special, just reliable and wholesome dog food. Moderately priced between $15.80 and $110.05, this can be an excellent budget-friendly choice for Labradors.
However, the icing on the cake is that a portion of the proceeds from sales of each product is pledged toward the "Rachael Ray foundation," an organization working to help animals in need by providing money for food, medical equipment, and treatment for the poor pups.
All dog foods listed above are undoubtedly of excellent quality, and there are no wrong choices when choosing between them.
However, the choice comes down to you and your pet. Every dog is different, and not all products work for everyone. Depending on your pet's age, weight, build, and other genetic factors, they have unique needs, and there is no one-stop solution. For example, your dog may be allergic or may not respond well to any of the components in the food. Or maybe your dog isn't very active and does not need a very high protein diet or suffers from digestive tract ailments.
It's always crucial to know your dog's allergens and triggers before dishing out money on large packets of dog food. Thus consulting with your vet and doing some trial and error can help you find out which dog food is ideal for your Labrador Retriever and its need.