The Cane Corso is an Italian breed of dog with both playful and athletic qualities. Originating from Ancient Rome, the Cane Corso was initially bred for hunting and livestock guarding purposes, but now it is also kept as a family dog as per the Dogtime.
The sight of this breed might terrify a person as Cane Corsos have a muscular build and usually weighs between 88 to 110 pounds with an average height of 25 inches and an average lifespan of 9 to 12 years, according to Purina.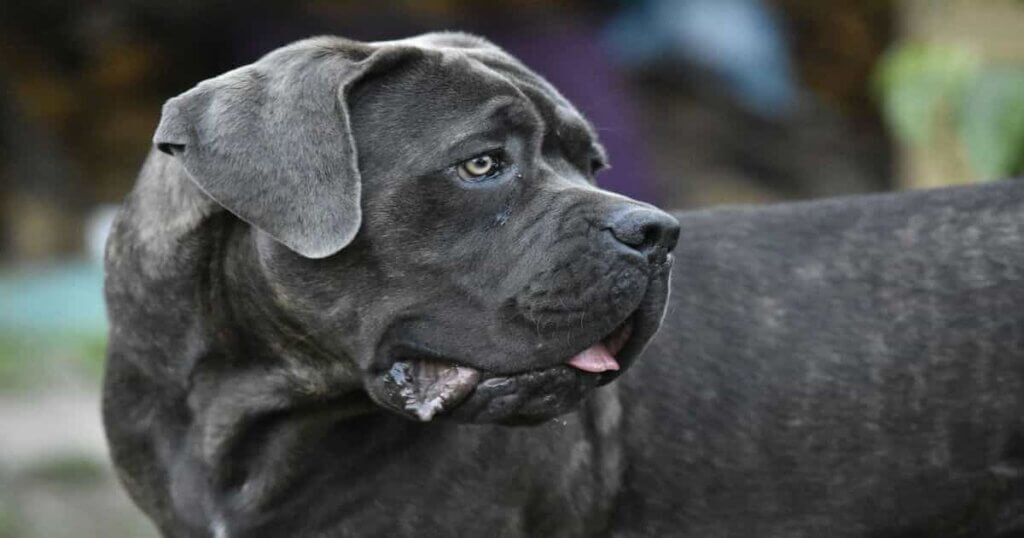 Table Of Contents
However, there is nothing to worry about, as proper training and socialization can make Cane Corso a very loving dog. Hence, novice pet owners are discouraged from keeping such a breed.
The Cane Corso is incredibly keen on activities and requires daily exercise at least twice. So, to keep up with such high activity and muscular body, the Cane Corsos requires a specific diet, especially one consisting of a high protein-to-fat ratio.
Factors of Canecorso Nutrition
However, the age of the Cane Corso is also an essential factor. For example, a Cane Corso, aging between 6 to 12 weeks, requires at least 4 meals per day, whereas another one aging a year or more will only need 2 meals per day.
The amount of food is also dependent on the age factor. Mastiff Guide suggests that Cane Corsos that are less than 6 months old require 1- cup of dog food a day, whereas the ones over 9 months of age require 4-9 cups of dog food a day, and a cup of food must be added for every 10 pounds after exceeding the 100 pounds limit.
In addition to all these, a scheduled food intake is a sound approach. This will essentially train the dog to have a specific potty time which the owners can track and thus give potty training to the dog.
However, it is recommended that diet schedules are to be taken after thorough consultation with a veterinarian as each dog has his/her own timing.
The high muscle composition can be taxing to the joints, and hence foods for Cane Corsos must include Glucosamine and Chondroitin as they strengthen the joints and keep the collagen level in check, according to Mastiff Guide.
Other vital ingredients include D.H.A., carbohydrates, protein, fats, calcium, and vitamins. D.H.A is responsible for physical and mental development and is found in fish such as salmon.
Carbohydrates, which is the prime source of the Cane Corso's energy, is usually found in grains and rice. In addition to all these, meat and fish is an excellent source of proteins, fats, calcium, and vitamins.
Now you might wonder what precisely you should give your dog. Well, it's a widespread inquiry since a lot of food provides the nutrition mentioned earlier but is highly harmful for dogs. For example, milk (except the dog's mother's milk) and other dairy products contain an abundant amount of calcium, but it also includes a particular type of sugar and fatty acids, which is indigestible due to the absence of certain enzymes.
Chocolates may seem harmless, but they will cause diarrhea and vomiting in the dog because of the presence of a toxic substance called methylxanthines, which can also cause abnormal heartbeats and even death if consumed in a large amount.
While dough foods seem like a good source of carbohydrates, they can cause alcohol poisoning because of the fermentation in dogs' stomachs, according to Shallowford Animal Hospital.
Besides, wet foods such as beef and chicken can provide better nutrition, but it also conditions the dog to prefer raw foods, and thus they might pick up on unwanted foods. On top of that, wet foods tax a heavy toll on daily expenses.
There are numerous dog food products in the market, each of which claims that they are "the best" even if they are not. Well, you are in for luck as we have compiled a list of top 10 foods for the Cane Corso breed that will keep your dog healthy and fit. These products are readily available on the Amazon website and your nearby pet store.
Blue Buffalo Wilderness High Protein, Natural Adult Dry Dog Food
Currently grossing at #1 position, Blue Buffalo Wilderness Dog Food has the highest rating (4.7/5) among all the other dog products and is rated by almost 13000 users across the globe, making it the best food for the Cane Corso breed.
It is a dog food prepared specially for highly active and muscular dogs like the Cane Corso and comes in all shapes and sizes.
According to Blue Buffalo, the main muscle-building ingredient is real chicken, which tends to satisfy the dog's love for meat and helps it maintain a lean muscle mass.
It is also packed with peas and sweet potatoes that act as a carbohydrate supplement and provides the energy required for an active lifestyle. Besides, it also helps with coat and skin health with its 6 fatty acids and Omega 3 components, according to Dog Lovers Digest.
In addition to all these, Blue Buffalo Wilderness also contains LifeSource Bits, which act as an antioxidant for the dog. Its protein and fat ratios are 34% and 15%, respectively, thus making it a very high protein diet.
With all the natural ingredients it offers, it can make a difference to your Cane Corso's long-run health. The price ranges from $37.98 to $50.00, depending on the size and package of the respective option.
Wellness CORE Grain Free for All Breeds
Surprisingly after a close competition, the Wellness CORE Grain-Free dog food product takes the #2 position with the same 4.7/5 rating among almost 3000 users and is another top-notch food for the Cane Corso breed.
It comes in all shapes and sizes and its primary ingredient consists of deboned turkey and turkey meal that is rich in Glucosamine, a substance that enhances the joint stability of dogs that are muscular and active such as the Cane Corso.
Unlike the Blue Buffalo Wilderness, Wellness CORE also offers chicken meal flavor besides the turkey flavor, and the chicken meal also contains Chondroitin Sulfate that helps prevent Arthritis.
It also has various vegetables and fruit extracts that contain all the essential vitamins and minerals for your Cane Corso. However, this product is the best choice for dogs with stomach issues as it does not have any meat by-products or fillers, and as a result, it lacks by a bit compared to the Blue Buffalo product.
Wellness CORE also contains similar ingredient compositions: 34% protein and 16% fat, making it a suitable high-protein dog food product. The pricing, however, is quite expensive as it ranges from one 12-pound bag of $45.98 to a 26-pound bag of $164.99.
Taste of the Wild Pacific Stream for Adult Dogs or Puppies
In #3 is Taste of the Wild Pacific Stream dog food specializing in fish flavor, as the name suggests. Its ancestorial style theme has secured a 4.7/5 rating from almost 10000 users.
The key ingredient of this product is the high amount of smoked salmon fish that attributes to the joint's strength and buildup of lean muscles, making it a perfect food for the Cane Corso dogs. According to Pacific Stream, their dog food contains distinct K9 Strain Proprietary Probiotics that promote smooth digestion and enhance the dog's immune system, thus ensuring less number of diseases in the long run.
Besides, it contains perfect blends of fruits and vegetables that contain enough vitamins and minerals and Omega 3 acids that support healthy skin and coat.
This product contains a minimum protein of 7.5% and minimum fat of 3.5%, although each packet should have a more significant proportion of each component but in the same ratio.
According to Pacific Stream, the best feature of this dog food is that it provides high-quality treats at a very affordable price, starting from a 5-pound pack at $17.99 to a 28-pound pack at $50.00.
Orijen Large Puppy Grain-Free Food
Our #4 position goes to Orijen Large Puppy Grain Free Food, which specializes in large dog foods like Cane Corsos. With a 4.6/5 rating from about 900 ratings, this product has won the "Best Dog Food Award" in both 2020 and 2021 because of superior quality.
Unlike the previous products, Orijen Pet Foods mainly prepares their product using raw meats, chickens, vegetables, etc. They firmly believe that it tends to "fulfill a dog's natural, biological needs."
85% of the product is composed of animal ingredients such as deboned chicken and turkey, eggs, and whole Atlantic Mackerel that ensure lean muscle mass and improve bone and joint strength, while the rest 15% consists of fibers and fats. A distinct feature of this product is that the food is usually covered with the freeze-dried liver, which significantly improves the appetite of large
breed dogs like Cane Corso. However, it has really high pricing, with a 13-pound bag starting from $59.99 to 25-pound bag to $99.99
Ziwi Peak Beef Grain-Free Dried Dog Food
Ziwi Peak Beek dry dog food product goes to #5 with a 4.6/5 rating from about 4000 users. Unlike all the other products, Ziwi Peak products come in different flavors: beef, chicken, lamb, and venison that will never bore your dog's appetite.
The meat used in this product is taken from farm-raised, grass-fed animals and is completely free from artificial growth enhancers and antibiotics, according to Ziwi Pets. As Dog Lovers Digests says, "It is as close as you can get to feeding raw without actually feeding raw" because of its high protein composition of 96% free-range meat grown only in New Zealand.
The carbohydrate composition is also nutrition-packed with Limited Ingredient (L.I.D.) that excludes all kinds of artificially added carbohydrates and thus provides fuel for active dogs like Cane Corso without harming its muscle composition.
Besides, it also contains green mussels, which are an excellent source of chondroitin and Glucosamine, which provides strength to the joints and reduce inflammation while promoting healthy digestion.
This product has a wide variety of price ranges, starting from $27.58 to $180.88. Even though
it is in the #5 position, its affordable price range makes it one of the most popular dog food toppings for Cane Corso dogs, according to Dog Lovers Digest.
NUTRO Ultra Adult Dry Dog Food
Specializing in Adult Dog Foods, the #6 position goes to NUTRO Ultra Adult Dry Food with a rating of 4.7/5 out of almost 1800 users.
NUTRO's product always ensures that all kinds of preservatives, artificial colors, and flavors are prevented from being added, thus making tasty and healthy food.
However, NUTRO's product does not come grain-free as they include whole grains and oils as protein ingredients, so dogs with grain allergies are prohibited from consuming this product.
The best aspect of this dog food is that it combines salmon, chicken, and lamb, making it a protein supplement for your Cane Corso. In addition to all these, it also contains immune system supplements such as antioxidants, that ensure healthy skin growth and coat.
The price ranges are pretty expensive, considering the consumers' limited choices. It starts from a 15 lb bag that costs $62.99 to a 30 lb bag costing $59.49.
CANIDAE All Life Stages Dog Food
The #7 position on our list goes to the allrounder of all dog foods: CANIDAE All Life Stages Dog Food, which secures a 4.4/5 rating among 1231 users across the globe.
As the name suggests, CANIDAE products can be fed to your Cane Corso dogs at any stage of their lifespans. This is why this product is a typical Cane Corso dog food. The main ingredients include a perfect mixture of chicken meals, lamb, turkey, and fish suitable for dogs like Cane Corsos.
Besides, the digestive system, as well as the immune system, is also benefited from this dog food as it contains probiotics and antioxidants.
Unlike NUTRO's product, CANIDAE is made by highly-experienced veterinarians who ensure that the products contain no common allergens such as grains.
CANIDAE also offers a lot of flavors and price ranges for pet owners. You can get the mixed ingredient flavor mentioned above or get isolated tastes like chicken, lamb, and whitefish. The price range starts from 23.5-pound pack of $40.64 to 40- pound pack of $64.99.
Blue Buffalo Basics Limited Ingredient Diet
Surprisingly, Blue Buffalo again takes the #8 besides the #1 position, this time with a rating of 4.7/5 out of only 111 ratings.
So how come one product of Blue Buffalo gets the #1 spot while another one gets the #8 position? The answer lies in the name: this product has "limited." While more is usually better, sometimes less can be better too.
The limitation is mainly to make this package economical and as much allergy-free as possible, according to Dog Lovers Digest. The primary focus of this limited edition is for the Cane Corsos that have a sensitive stomach.
The only protein source is deboned turkey, combined with healthy vegetables like pumpkins, peas, and potatoes, which are also rich in fibers and carbohydrates. Besides, Blue Buffalo is known to provide LifeSource Bits in their product which provides essential minerals, vitamins, and antioxidants that support the skin and coat of the Cane Corsos. The only package and price range available for this product is the normal sized pack for $46.24.
Chicken Soup for the Soul Dog Food
With a mere 689 reviews, Soul Dog Food has secured a 4.7/5 rating and #9 position on our list
This soup's main ingredients include cracked pearled barley, chicken meal, and turkey meal, which are the primary protein sources.
Besides, it also consists of the two substances needed to maintain good bone and joint structure for active and muscular dogs like Cane Corsos: Glucosamine and Chondroitin; however, certain common fillers are excluded, which include soy, wheat, and corn.
The soup comes in various packages and price ranges, starting from one 4.5-pound bag for $12.04 to one 28-pound bag for $92.67.
Purina Pro Plan Adult Sensitive Skin and Stomach Dry Dog Food
Last but not least, Purina Pro Plan Adult ranks #10 on our list with a rating of 4.7/5 among almost 19000 reviews. Despite having a high rating-to-user ratio, it still couldn't get a higher ranking simply because of its relatively low protein content.
Some Cane Corsos have issues regarding specific ingredients which are generally beneficial.
The primary and only protein component of this dog food is Salmon. It also contains canola meal, barley, oatmeal, and rice, providing the necessary carbohydrates. It also excludes all sorts of soy, corn, and wheat substances, making it highly digestible. Besides, the pre and probiotics of this dog food enhance the dog's digestive system and health.
It has various price ranges that start from a 4 lb. bag of $17.18 to a 24 lb. bag of $80.00, which is pretty affordable.
Can Dalmatians and Cane Corsos Eat the Same Dog Food?
When considering the diets for Dalmatians and Cane Corsos, it's crucial to choose the right dog food. While both breeds have distinct nutritional needs, some options can cater to both. Before making a selection, consult with your veterinarian and consider top dalmatian dog food recommendations to ensure your pets receive the essential nutrients for their specific dietary requirements.
conclusion
All the dog foods mentioned above have their respective merits and demerits, yet each serves the same goal: providing your Cane Corso dog with the proper nutrition and keeping them healthy.
In fact, numerous other dog foods offer similar nutrition, but the list here is specifically for the top-tier dog food products. In the end, it comes down to the pet owners' experiences, planning, and budgets for the foods, as well as the preference of each dog. From the ascending order of ranking, the ingredient varies along with the prices, so the ultimate trade-off lies between one's budget and the quality of the dog food.