The Australian Cattle Dog (ACD), also known as Blue Heelers, is a smart and athletic dog breed originating in Australia. They are medium-sized dogs with an average height and weight of 18.5 inches and 42.5-lbs, respectively. And usually live for 12-16 years.
The ACDs were primarily used for guarding and maintaining cattle herds of rich owners. They still live to serve that purpose. Apart from that, they are also happy to be family dogs.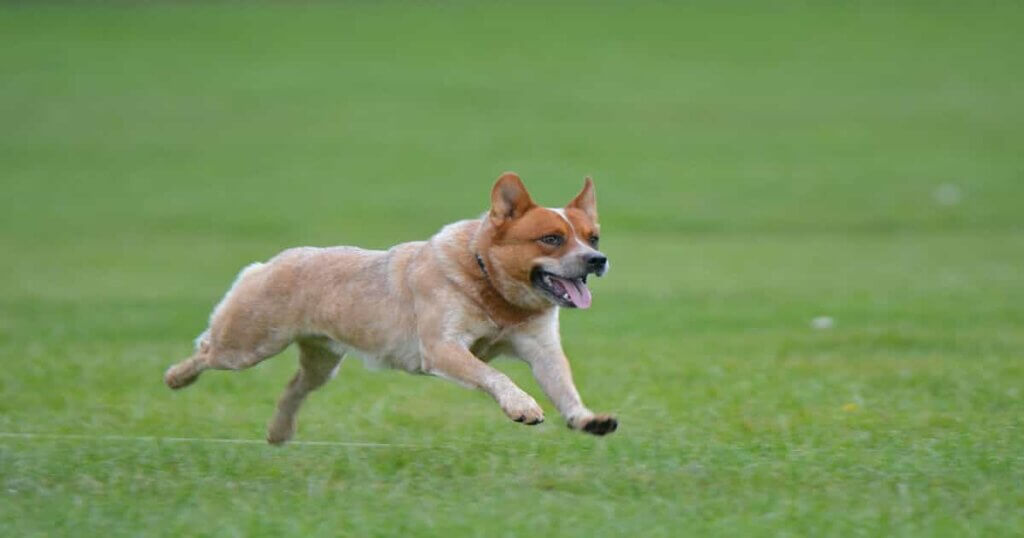 However, ACDs are popular for their high daily activity levels and biting habit. This tendency of powerful bite is something that the ACDs pick up from their herding job. So plenty of training is required to teach them when to bite and when not to.
Hence, if you can facilitate numerous training sessions with your dog and can keep them busy all day long. Then this dog breed is especially for you.
The Australian Cattle Dog is a loyal dog breed who love to remain attached to their owners or families.
They typically form stronger bonds with one particular member than the others and will probably hang out with them the most of the time.
But don't let that fool you! When it comes to protection, the ACD will give its best to protect each member. Besides, ACDs are the prime example of extreme toughness, endurance, and pain tolerance as they can survive in any weather condition. They will keep on helping you even if they are injured. So, the owners are advised to check for injuries in their ACDs.
Table of Contents
Training your Australian Cattle Dog
The training method also plays a vital role in your dogs' mental and physical development. ACDs need all the activities they can get in order to exert their natural energy fully. As ACDs have a natural tendency to herd cattle, they are prone to chase literally anything that is moving.
Hence, teaching them proper behavior through rigorous training is very important for behavioral control development. Canine sports is a great choice to train your Australian Cattle dog effectively.
Also, puppy kindergarten is also an excellent step that can be taken to help your dog socialize with its kind. Besides, socialization with other dogs as well as young children needs to be commenced as early as possible since they have a habit of biting almost anything.
Thus, they need to be trained with chewable items like sturdy toys, which would help them develop the understanding that not everything is chewable.
Dietary Tips for your Australian Cattle dog.
It is really important that your Australian Cattle Dog gets the right diet in all stages of its life to function properly and live a healthy life. The main goal is to give them the right amount of food depending on their activity levels and age.
The Puppy ACDs should be fed approximately 3 times a day in 3 portions. The frequency needs to be higher because they need all the nutrition they can get when they are growing.
But be aware! Do not feed them too much as this is a common misconception that "more is better" for a developing dog when it is not. Also, the puppy must be fed their respective puppy food only as their digestive system is not developed enough to digest adult dog foods.
As for the Adult Australian Cattle Dog, a daily intake of 2 to 3 times with 2 portions should be good enough.
However, if your ACD is hyperactive, you should increase the amount of food by incorporating additional meal times throughout the day. This will ensure that your dog does not have a huge calorie intake at one go, which will prevent your dog from developing obesity and joint and bone problems.
There is actually no standard limit to your dog's food intake as dogs are like any other individual: each has its own respective diet. But there are ways that you can use to maximize your ACD's food intake while not crossing the overweight threshold.
Place your hand on your dog's back with the thumbs up and exactly over the spine of the dog with all other fingers spread out. A slight pressure should make you feel the ribs without any visuals. If not, then your dogs' food intake should be decreased and exercise levels should be increased.
Sensitivity of Australian Cattle Dog
However, the stomachs of Australian Cattle Dogs stomach do not have the capability to digest and ferment carbohydrates. Hence, feeding any food containing carbohydrates might lead to stressful insulin-induced inflammation and damage the internal organs.
Also, any kind of preservatives or additives may cause microbiome imbalance, thus leading to the deterioration of the stomach mucous lining and eventually a compromised immune system.
Hence, with all these issues into play, making dietary mistakes is quite a common thing. In order to avoid this, we have prepared a list of top 7 food products for your Australian Cattle dogs that will ensure all the necessary nutrients for your ACD's long-term health and growth.
These foods can be found in any nearby store or on the Amazon website. So, without any further ado, let's get to it.
Currently at the #1 position on our list is the American Journey Active Life Lamb and Brown Rice Dog Food. This is the best adult dry dog food for your Australian Cattle Dog in the market and can also be used for puppies during emergencies.
The main ingredients include deboned lamb, turkey meat, lamb meal, brown rice, and barley. Thus, the meats make up almost 23% of the product content as premium, concentrated protein that help to maintain muscle mass of the dog.
As ACDs are extremely active, protein is essential to prevent the dog from going skinny due to the high-calorie burning, and this recipe ensures that! It also contains omega-3 fatty acids (15%) extracted from flaxseed that promote the healthy skin texture of your dog.
Additionally, the natural fibers from the barley and brown rice help with the digestion system. Perhaps the best thing about this product is its protein-to-fat ratio of 23:15, which means that this product contains a high protein ratio compared to other dog foods on the market.
The product is available in all shapes and sizes, starting from a 4-lb bag of $10.99 up to a 28-lb bag of $49.99, making it a high-value product relative to its price.
The #2 position in our list goes to Purina Pro Plan Puppy Chicken and Rice Dog Food. This product specializes in providing all the necessary nutrients to your puppy Australian Cattle Dog, with a protein-to-fat ratio of 28:13 and making it another high-protein dog food for your Australian Cattle Dog.
This recipe contains its unique formula designed especially for your dear ACD puppy. The primary protein ingredients include chicken and poultry by-product meal that provide high-quality premium protein, which significantly enhances your puppies' growth and ensure that your puppy has a fit and toned physique when it reaches the adult stage.
The product also includes rice and whole-grain corn that provides the complex carbohydrates which provide the energy needed for your puppy to function actively all day long. Additionally, the Omega-3 and 6 fatty acids present in this recipe promote excellent skin and coat texture for your puppy dog. In addition to all these, it also contains natural DHA extracted from fish oil that develops eye coordination and cognitive intelligence.
The only downside is that it is only for puppies; thus, we could not rank this product at the top simply for its limited functionality.
Overall, it is a really good choice for your puppy and the prices start from an 18-lb bag of $49.98 to a 47-lb bag of $83.98, making it a rather expensive option given its limited usage.
Nutro's Wholesome Essentials Senior Lamb and Rice Dog foodtakes the #3 position on our list. As the name suggests, this product also specializes in providing high-quality nutrients to the senior Australian Cattle Dogs. This is also another high-protein recipe consisting of a protein-to-fat ratio of 2:1
The primary source of protein comes from grass-fed deboned lamb meat that provides excellent lean mass to your senior ACD. This recipe also provides essential vitamins, antioxidants, and minerals that improve the overall health of your dog.
Besides, senior ACDs require all the supporttheyt can get fortheirs bones and joints as after prolonged active usage, they may tend to deteriorate. For this reason, this recipe includes calcium, chondroitin, and glucosamine that promote joint and bone strength.
Besides, additives and preservatives are very harmful for the digestive system of your dog and for this reason, this recipe provides non- genetically modified food. You can easily verify this yourself as all the ingredients listed are well known and all kinds of byproduct meals are excluded.
Similar to the previous recipe, this too lacks the diversity of usage, which would otherwise be a top dog food for your Australian Cattle Dog. There is only one package available whose price is $49.71, making it quite a non-flexible product in monetary terms.
The #4 position on our list goes to Instinct's Original Grain-Free Beef Canned Dog Food. This recipe is a wet dog food for your Australian Cattle Dog that will surely make them want more for its delicious taste.
Its protein-to-fat ratio is 1.53:1, thus making it a high protein supplement.
The main protein ingredient includes beef, beef broth, and beef liver. We have found that 95% of its premium protein content comes from beef sources alone. Thus, its high-quality and high-calorie proteins help to increase muscle mass and improve your dog's ligaments, joints, and bones. This also helps to increase the blood supply of your dog throughout its body.
Additionally, each package of this product contains around 1432 calories which provides a high-dosage of fuel needed for your highly active dog. Moreover, the Omega-3 and 6 fatty acids extracted from the flaxseed facilitate healthy skin texture for your dog.
Its mouthwatering, juicy flavor is surely going to improve the appetite of any dog, especially the picky ones. In addition to all these, all sorts of corn, grains, gluten, soy, and wheat sources are excluded from this product; hence, this is exactly what you need for your dogs if they have a history of sensitivities and allergies.
Its major drawback includes its high-calorie content. Although it helps with the energy maintenance of the dog, it is most likely to contribute to the increase of your dog's weight, leading to obesity. The only available package is 32 oz at $22.14.
Blue Buffalo's Wilderness Rocky Mountain Grain-Free Dog Food takes the #5 position in our list. It consists of premium, high-quality contents with an excellent protein-to-fat ratio of 2:1.
This product is a perfect choice for your Australian Cattle Dog if it has a history of allergies and sensitive stomach issues. The ingredients are carefully inspected and chosen, which ensures that no allergy is being caused due to the recipe.
The protein in it comes from numerous sources, including venison and lamb. The venison meat enhances muscle development and provides the lean mass needed for your highly active dog.
On the other hand, the lamb meat is an excellent digestive friendly high protein source that contains micronutrients such as amino acids for muscle growth, fatty acids like omega-3 and 6 that facilitate smooth skin texture, and other essential vitamins and minerals.
In addition to all these, it also contains glucosamine and chondroitin, both of which ensure strong bones and joints of your dog.
If you want to avoid raw food for your dog, then we can assure you that this product is the perfect substitute that you are looking for! The product comes in a variety of prices and packages, starting from a 10-lb bag of $40.98 to a 22-lb bag of $67.98.
The #6 position in our list goes to another Taste of the Wild High Prairie Grain-Free Dog food.
This is quite popular among pet owners as it is the most economical dog food for your Australian Cattle Dogs, with a protein-to-fat ratio of 1.78:1.
If you want an all-in-one, economical high-protein package for your dog, then this product is the perfect choice for you! The main protein ingredients come from pasture-raised bison and venison, which provide high digestive-friendly meat and a delicious flavor that will make your dog want more after every meal.
It also contains special proprietary K9 strain probiotics, and each package has about 80 million active, live cultures, which further enhances the digestive system and ensures that the immune system is functioning properly.
Additionally, the Omega-3 and 6 fatty acids present helps to improve the skin texture as well as promote shiny coating. In addition to all these, natural antioxidants extracted from vegetables, fruits, and legumes helps to improve the overall health condition of your dog.
Thus, this is one of the best economical foods for your dog that is readily available on the market. The price range starts from a 5-lb bag of $17.99 to a 28-lb bag of $54.99.
Last but not least, the #7 position goes to Diamon Naturals Extreme Athlete Dog Food. As the name suggests, this food is specialized for hyperactive Australian Cattle dogs and has a protein-to-fat
ratio of 1.28:1
This recipe is made especially for weight and muscle-gaining purposes. The main protein source is cage-freed chicken meal, which contains around 500 calories per serving, followed by a high protein content of 32%, which enhances rapid muscle growth.
It also has a relatively higher fat composition compared to the other dog foods, mainly for its high content of Omega-3 and 6 fatty acids present help to improve the skin texture as well as promote shiny coating.
This food contains special proprietary K9 strain probiotics, and each package has live cultures, which further enhance the digestive system and ensure that the immune system is functioning properly.
It also contains micronutrients such as amino acids for muscle growth and other essential vitamins and minerals. In addition to all these, it also contains naturally extracted antioxidants that ensure a happy tummy for your Australian Cattle dog. The product is available in only one 40-lb bag package for $50.99.
Conclusion
All the dog foods mentioned above have their respective merits and demerits, yet each serves the same goal: providing your Australian Cattle dog with the proper nutrition and keeping them healthy.
In fact, numerous other dog foods offer similar nutrition, but the list here is specifically for the top-tier dog food products. In the end, it narrows down to the pet owner's experience, planning, and budget for the foods, as well as the preference of each dog.
From the ascending order of ranking, the ingredient varies along with the prices, so the ultimate trade-off lies between one's budget and the quality of the dog food.
To know more about Australian Cattle dog keep an eye in this page.